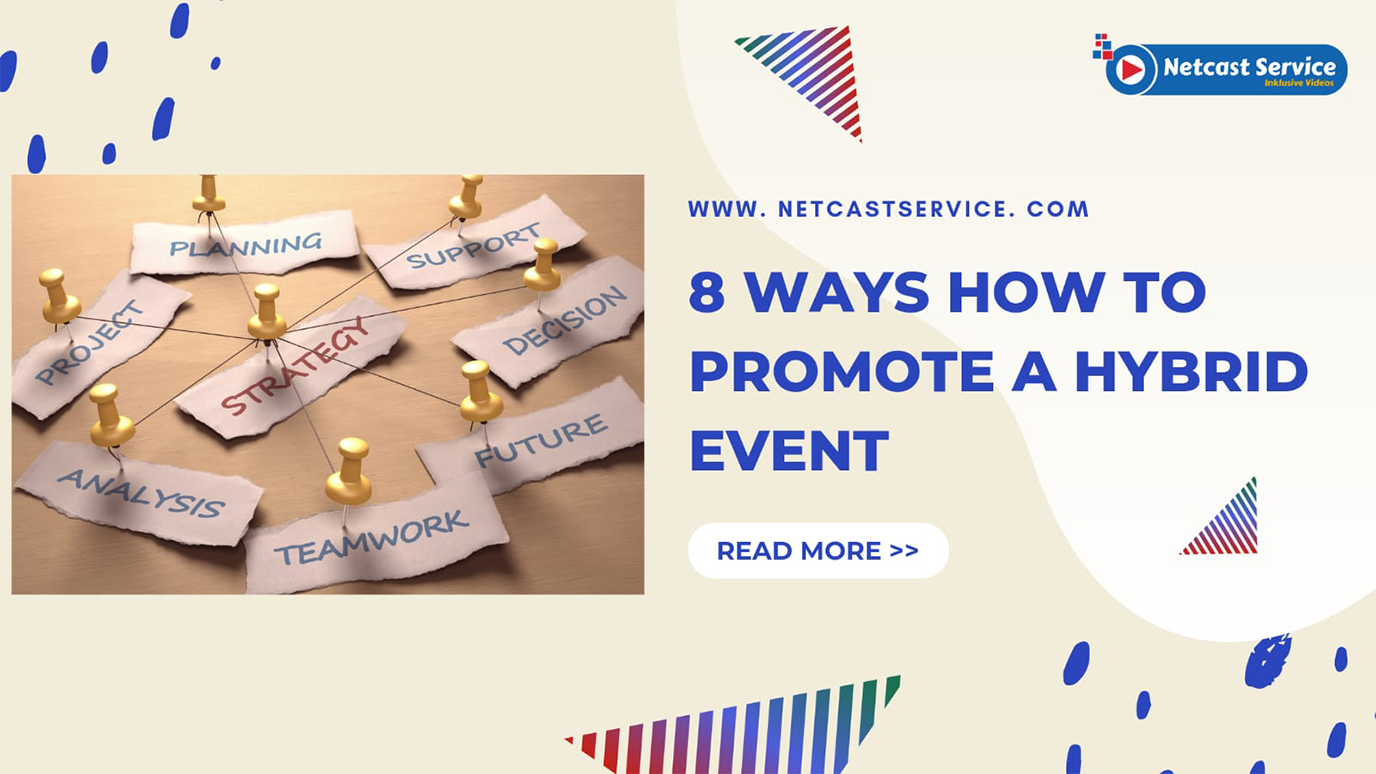 8 ways How to promote a Hybrid Event
After the COVID-19 pandemic, hybrid events have become a new trending event format in the market. From zero events because of the lockdown, hybrid events give the opportunity to bring the speaker and the audience in touch again. The other important feature is that hybrid events give a large audience as compared to the traditional way of events.
When you are planning for a hybrid event or say any event, how to promote hybrid event is a major question. Before planning for any event you should have in mind the plan of the promotion strategies. Hybrid event marketing is nothing different, every event needs marketing for a better outcome.
Let us see some hybrid event tips you should follow while planning for hybrid event marketing:
Attractive Landing Page

An eye-catching landing page is a vital first step for hybrid event marketing. A page full of necessary details about the event for the potential audience gives a good first impression.

A landing page must have an easy-to-fill registration form, fee details if applicable, and a date, time, and venue for the physical attendees.

A call to action button on the landing page acts as icing on the cake, with proper optimization of keywords.

Use of Social Media platforms for hybrid event marketing

When the question "How to market a hybrid event?" takes place on the table, Social media marketing is one of the best and most important ways to do it. Around 70-80% of the potential audience is available on social media, and around 60% of the website traffic you get from the call to action buttons on your social media platforms.

An appealing, bright, attention-grabbing creative always attracts the audience and also gives you a higher impression rate. When nearing an event, your posts should be frequent and should consist of the following: the event objective, topic, date, time, venue, and speaker's details.

When you start marketing for the hybrid event, you should make proper use of the social media banners. Until the successful completion of the event, your social media banner space should only display posts related to the event.

Hashtags are a must.

The rise of social media platforms has created a special place for hashtags, and hashtags give a wide audience reach. Create a pleasing hashtag for the event, which defines your event the best. Hashtag creation is an important part of hybrid event best practices.

Your hashtag can be any appealing, mind-striking one, or simply define your event name. All your social media posts on every social media platform should promote your hashtag in abundance.

Highlighting the speaker

The speaker is the centre of attraction for any hybrid event, and hybrid event marketing should include marketing the speaker because the name of the speaker can itself attract a good number of the potential audience.

You should market what topic your speaker is going to cover, and if you have more than one speaker, every speaker should be marketed separately as well, with the particulars of their professional details and the topic they are going to cover and the lecture period. Giving significance to your speaker is one of the hybrid event's best practices.

Video Teasers

Multiple creative video teasers attract more audience than write-ups or still posts. A video must have a piece of peppy music to boost the audience and force them to click on the event. For the question of how to promote hybrid events, video teasers are becoming the best answer.

Video creates inquisitiveness among the prospects to know more about the event and the speaker, which can lead to landing the potential audience directly on the landing page and then on to the thank you page. Your teaser can have a snippet of the event and the experience of your past events, interviews of the speakers and the audience who attended your previous events.

Event ready Website

When you are nearing any hybrid event, your website should also be ready for it. Every page of your website should be marketing your event to your direct or already existing customers, and each page should have a pop-up showing your upcoming event with a proper call-to-action button.

But keep in mind that the pop-ups should be frequent, but they should not rescind the visitor's experience, as this can lead to a higher percentage of page drops.

Print Media Promotion

After all the work on digital marketing, you should not forget the print media. This platform still holds an immense place in the marketing world. A print media advertisement is always available to the customer at hand, and billboards, flyers, and newspapers hold an important place in your how to promote hybrid events preparations.

Remarketing

Remarketing is a must for hybrid event best practices. Once your potential audience is done with the registration process, he/she gets a constant and timely reminder of the event. Every reminder should make them more eager to attend the event. Effective remarketing can increase the number of footfall as well as online participation.

The question of how to promote a hybrid event or how to market a hybrid event will always stay and will come up every time you are planning for a new event. The important thing is how thriving you are in following your marketing strategy's hierarchy. Proper marketing planning can increase your ROI and can give you good results.

Like marketing a event is important, Digital presence of your business is also important. To know more about Digital Footprint click on the link. https://netcastservice.com/DigitalFootprint