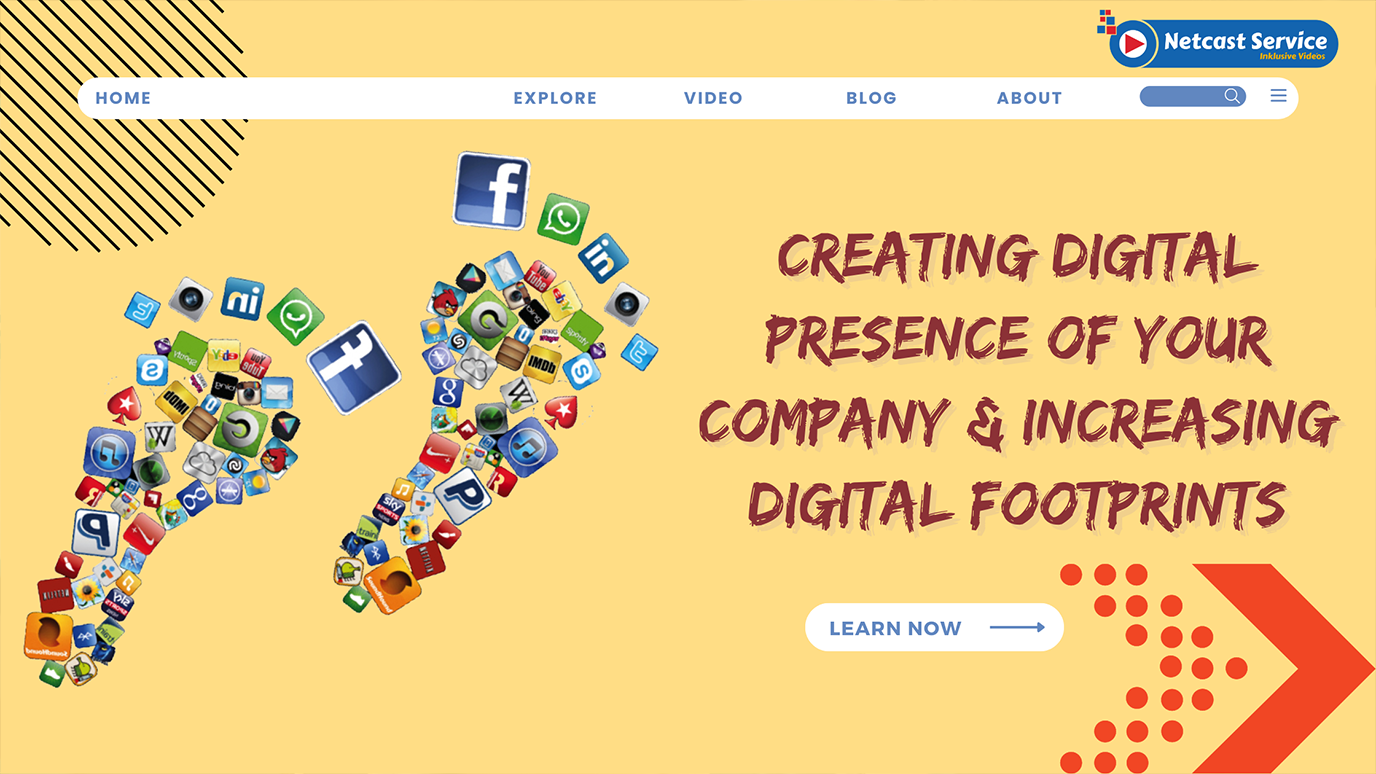 Creating a digital presence of a company is a question. The Netcast Service will show you the path to increasing your digital footprint.
The importance of digital presence is growing over time, and the growth of digital or online platforms is at an all-time high.
Connecting with a potential customer is important, and the digital platforms have made the digital presence of a company easy. It was never on the same page before. Creating an impact on the potential customer had some boundaries earlier, but now the reach is vast and before your competitor grabs your market, you must open your eyes and create an online presence for a business.
Around 80%-85% of potential customers check products online, have a deep knowledge of them and check reviews before investing.
Wondering How to increase your digital presence?
The digital presence of a company means putting your brand in the digital hand of the customer, and a business can create it in the following ways:
Guest blog for other sites.
Make easily shareable infographics.
Improve your SEO with user-intent-related keywords.
Start a Referral Program.
Make the most of your organic social media presence.
Develop a voice for your brand.
Start a podcast.
Take part in brand partnerships.
And this can all be done by keeping a keen eye on what your brand is proving to the internet because the internet keeps it forever.
Do not worry about how it will happen. The Netcast Service team is happy to take your load and will help you with creating your brand's digital awareness. At Netcast Service, we focus on increasing the digital footprints of the brand in the right direction. Online presence management is done in the right way at Netcast Service. We understand that going digital is not just setting up an attractive website but is way beyond that. Creating your brand's digital profile means creating a platform where your potential customer can easily find you, whether it is a website with a complete background of your business or a social media platform through which a brand can easily find you. Netcast services understand the importance of digital presence.
This is a digital era and the potential customer relies on the internet before making any decision. Lacking the digital aspect will lead you to lose a potential customer.
Learn how Netcast Service can help businesses expand their digital footprint.
First, understand what "digital footprint" means.
A digital footprint is the list of all the interactions your brand has had online. What you have posted online stays there forever. Your digital footprint helps you document what your brand is leaving or posting online for others.
The Netcast service provides many ways for corporates through which they can lead the digital presence of a company in the right direction.
The services we provide are as follows:

Virtual Events

Virtual events are events that are purely conducted online in which anyone can participate from anywhere. Many companies are providing virtual events, but how Netcast service is different from them is the way we organise and customise the event according to our client's needs and demands.

Hybrid Events

Hybrid Events are events which are conducted virtually as well as physically. These types of events are on the boom in the current era where most businesses are in the transition phase of shifting from work from home culture to office culture.

Interactive 3D events

3D virtual event platforms ease the creation of real-life-like experiences through the use of advanced tools and technologies. The Netcast Service helps you recreate any street or holiday destination for the event and helps you be a part of any expo, event, parties, etc. with a next-level experience.

Webcast/ live streaming

Webcasting or live streaming has a highlight because it gives you a worldwide platform to grab the attention of a large audience a real-time live stream can be done from anywhere at any time without any constraint, and the Netcast service gives you the scope to focus on the content you are going to deliver while the technical aspects are taken care of by us. We will ensure that the best quality video is consumed by your audience.

Webinar

A webinar is a live online event where a speaker, or small group of speakers, delivers a lecture or presentation to a large audience who participate by submitting questions and responding to polls. Netcast Service offers a simple, cloud-based webinar solution with superior screen sharing, live video streaming, and recording features, plus customised branding, social media broadcasting, and audience engagement analytics.

Video conference

Video conferencing is a blessing in all possible ways. A real-time video meeting can be conducted, and it saves time, money, and other infrastructural arrangements. Here, Netcast Service takes care of the technological aspect and serves the client to attend the highest quality and smoothest meeting. The video conferences are conducted on a safe technological infrastructure, and we ensure that their confidentiality remains intact.

Animated Video

Animated videos are the best way of merging fun elements with the message a brand wants to communicate to the audience. Netcast Service provides the best interactive customised video according to our client, with the perfect punch of fun in it.

Surgery event

Surgery events are new to the market here, and many hospitals are conducting live streaming of important surgeries happening in their hospitals. While Netcast helps doctors focus on the work they mend while we take care of the best quality and uninterrupted videos, these surgery events are helping a large number of students.

Social media streaming

Social media is the most important platform when the question comes up that why digital footprint is so important This is the platform where you can attract a large audience in no time. The Netcast Service offers smooth and uninterrupted live streams of your events, product launches, etc. on various social media platforms.

E-learning

E-learning has become a popular and effective way of learning, and many schools and colleges are adopting the e-learning platform with open arms. The Netcast service provides a one-stop platform for schools and colleges where they can easily provide interactive lectures, study materials, exams, and much more.

Video on demand

When the question comes, what digital footprint means? and how the digital presence of a company can be made effective. Videos on demand play an important role. It happens some of your customers miss your live streaming or webinars. Here, Netcast Service provides your customers with the best quality video recordings of the events they have missed and for brands' keepsakes as well.

360 degree & VR Filming

360 degree & VR Filming is a new world of videos and gives a solid answer to the digital footprint is important? It gives the viewer the experience of physical presence while watching live streaming.

The Netcast Service holds your brand's future and trusts us, it is in good hands. The technology, the passion, and the involvement our team holds in each project is something which is shown in the results our clients get.

Team Netcast understands why digital footprint is so important, amends the service according to the client's requirements, and gives the best possible service for a healthy long-term relationship.