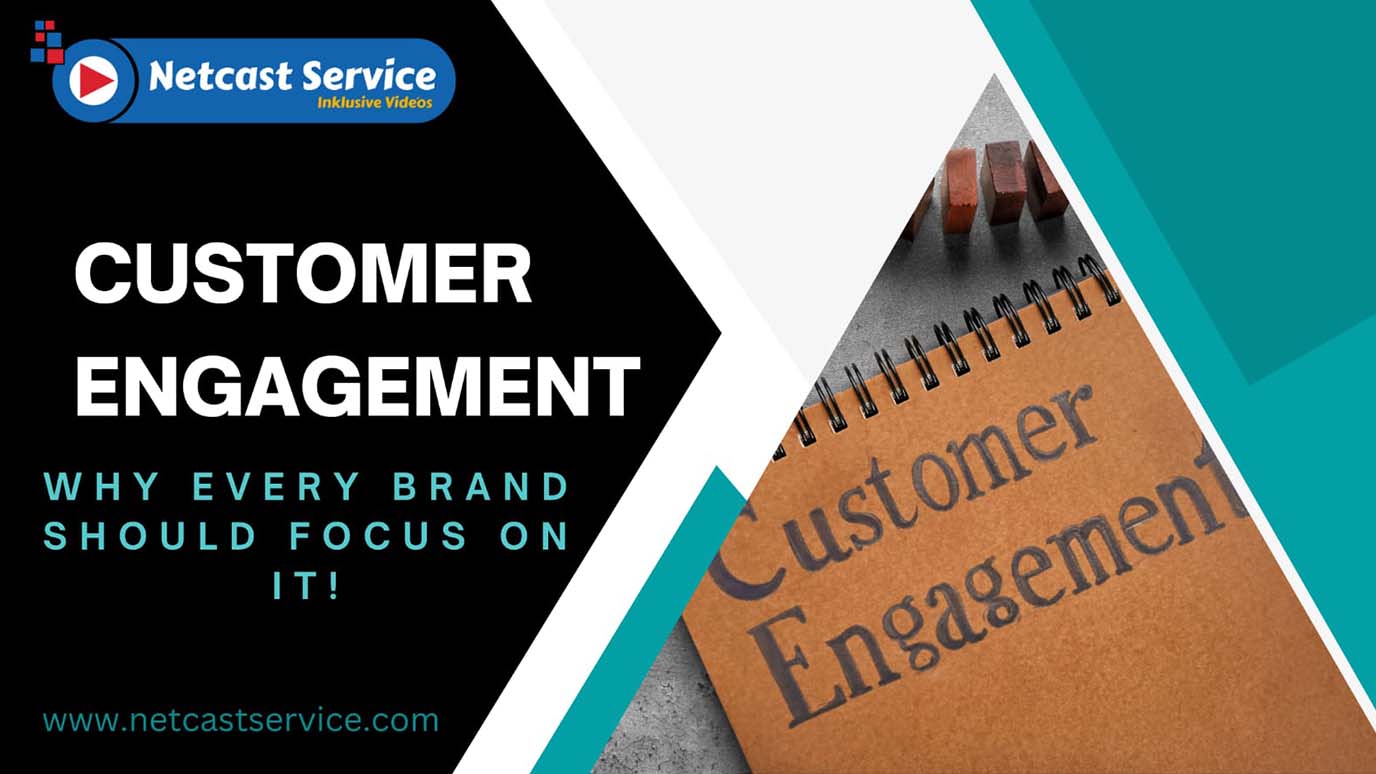 "Customer engagement: why every brand should focus on it! And how does the Netcast Service help with customer engagement?"
When discussing customer engagement, one should first know what it is and why it is important for brands.
Customer engagement is when brands do a variety of things to retain existing customers and acquire new ones, including developing a relationship with the relevant customer and identifying ways to establish a long-term relationship between both parties.
Why is customer engagement important?
Grabbing a customer from the market is a cost-consuming task; in other words, it is known as "customer acquisition," and customer acquisition is a complete and lengthy process. Here, customer engagement cuts down the cost of the entire process.
A customer who is truly engaged with your brand is probably a repeat customer. Customer engagement is keeping an impression on a customer even after the purchase is made through your after-sale services and by keeping the customer mailbox updated with your offers and new arrivals.
Customer engagement strategies
Know how your customer reached you.

Work on your customer loyalty program.

Customize your service for the client.

Plan according to your analytics.

Use visual engagement tools for more engagement.

Make your team happy.
---
Know how your customer reached you.

To create an impactful customer engagement strategy, you should know how your customer reached you and invested in your brand, and study all the major milestones the customer crossed before choosing your brand.

Know the needs of your customer, track how he came across your brand name and what was his next step, and know your USPs that attracted the customer to your brand and forced the customer to make a purchase and use the product or service. Focus on them and keep targeting the customer, considering their needs.

By studying your customers' needs, you can customise your product and service for the customer who adds value to your brand and retain them for life as loyal customers.

Work on your customer loyalty program.

Creating a customer loyalty programme is the best way to retain a loyal customer. It is a sort of leverage you give to your loyal customers in terms of gifts, loyalty points, discount vouchers, and many more.

This customer loyalty programme helps the most in making customers permanent, increasing repeat purchases, and increasing brand loyalty.

Customize your service for the client.

The most vital customer engagement strategy is to customise your services according to your well-paying customers after analysing the needs and wants of the customer and figuring out what they want next, then being ready with the next service or product they want.

This customer engagement strategy makes the client feel that he and his requirements are important to your brand. Engage yourself with the client through emails and a personal chat process.

Plan according to your analytics.

Analytics for any brand is very important, and planning business strategies according to analytics is the best way to plan your customer engagement strategies. The analytics show the customer's demand and what your customer is most interested in.

Social media analytics shows that customers are interested in the brand; you can collect the data through customer satisfaction surveys, and with the help of the data, long-term plans and strategies can be crafted.

And as this customer engagement strategy is built on the basis of real-time surveys and analytics, these are assumed to be more accurate when we talk about results.

Use visual engagement tools for more engagement.

The Netcast Service has the best services when it comes to visual engagement. Interactive 3D events, VR filming, and virtual and hybrid events are a few of the best ways to engage as well as attract more customers because of the visual appeal they carry.

In a similar way, you can interact with your customer through video chats and create awareness and reliability through visuals.

Mind mapping is another rising way of customer engagement for brands to engage their customers in brainstorming by using artificial intelligence in software development and business intelligence.

Make your team happy.

If your team is happy with the work environment, it can make your customers happy. A place that can give its team a happy work environment can give the customer the best after-sale service, and the staff dealing with the customer plays a massive role in customer engagement. Yet, many companies forget to support their employees like they support their customers, which may impact customer engagement.

So try to employ one of the most forgotten customer engagement strategies: take care of your team. Equip them with the right technology and training, motivate them, and reward results. Only when your team is well taken care of can you deliver the best possible customer experience and engage customers for life.

Netcast Service has a bucket full of customer-centric services that work in the direction of customer engagement. Our dedicated team and customer care services strongly believe in the theory that a happy client is a happy business and strive to provide the highest level of customer satisfaction possible.

Customer engagement strategies follow a path in which preparation comes first, followed by planning, implementation, and, most importantly, tracking, which allows you to develop future customer engagement strategies.

At Netcast Service, the team follows all the processes in a disciplined way so the customer as well as our entire workforce can attain maximum satisfaction.